Other than put mustard on my sandwiches, I can't say I have much use for it.
I kind of just gloss it over when I'm ransacking my fridge for stuff to make dinner out of
& dismiss it as something "I kinda only like on sandwiches".
I swear one bottle lasts me a year…& yes, that is still safe to eat.
Google said so.
It wasn't until I ate at a restaurant out of town that I realized the awesomeness of mustard on chicken.
The chicken I ordered was lightly breaded & pan fried until slightly crunchy.
It was swimming in an intensely decadent fatty-fat-delicious mustard cream sauce & topped with what looked like melted butter.
So yeah, it was trouble.
But it was my cheat day so I told myself it was OK…
800+ calories later, it was so NOT OK.
But I don't want you to miss out on having some mustard chicken goodness for yourself so I took all the flavor while cutting out some of the guilt to make this original 800 calorie dish into a new low fat 200 calorie meal!
You're welcome 🙂
 This recipe calls for Dijon mustard but I don't even like regular mustard so I made my own spiced-up version of the yellow stuff.  I put a little onion powder, salt, pepper, garlic powder in it to make a Dijon-esque mustard.
In the original recipe, the mustard was combined with melted butter.  In this recipe, I saved your waist with substituting Greek yogurt.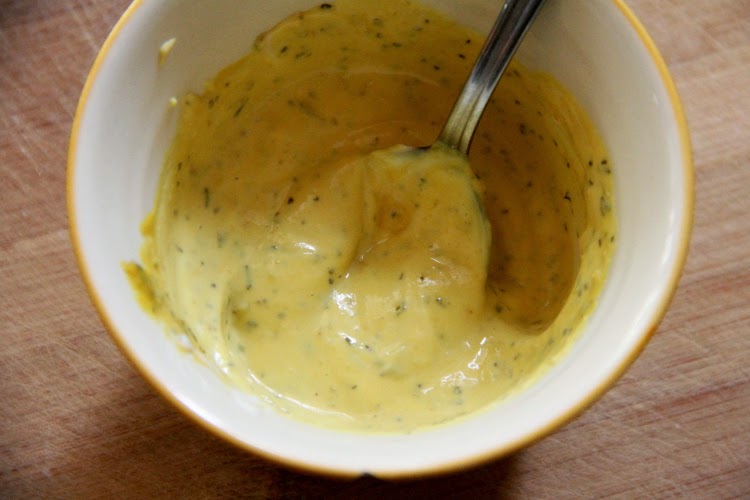 Instead of breading & frying the chicken in an inch or more of oil, I used just enough olive oil to brown the chicken before smothering with the lightened mustard sauce.
A sprinkle of panko bread crumbs gives it a little crunch without having to be completely coated & fried.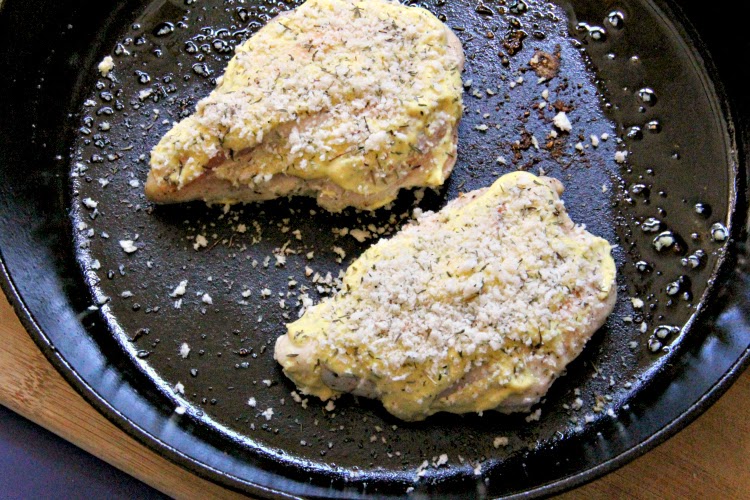 Putting the chicken in the oven to finish baking also helps cut out the need to fry & using the broiler for the last 5 minutes makes the panko extra crunchy.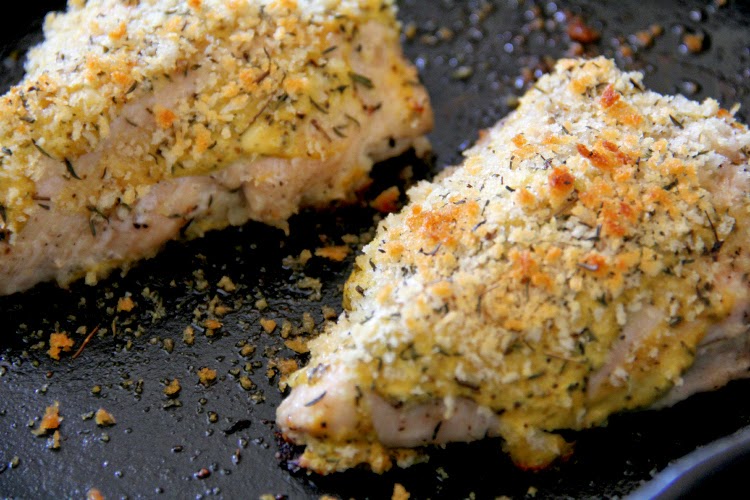 Using the pan "drippings", I made a lightened cream sauce using low sodium chicken broth & 1% milk & cornstarch to replace heavy cream.  This sauce can be used as a garnish to be drizzled on top or as a sauce you put under the chicken.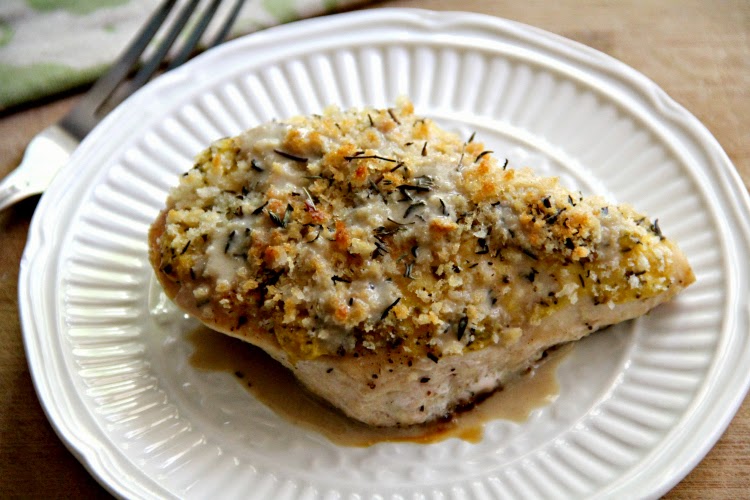 Panko Crusted Mustard-Glazed Chicken Breasts
Ingredients
4 Boneless,skinless chicken breasts
2 Tbsp olive oil
2 Tbsp Greek yogurt
1/2 cup mustard
1/2 tsp dried thyme (or fresh)
1 garlic clove, minced & crushed
1/2 tsp onion powder
salt & pepper to taste
3/4 cup whole wheat panko crumbs
2 Tbsp dried thyme
3/4 cup chicken stock
1/2 cup 1% milk
1 Tbsp cornstarch
Instructions
Preheat the oven to 400 degrees F.
Sprinkle salt & pepper on the chicken breasts.
Heat a skillet that is oven safe (like a cast iron skillet) with olive oil over medium-high heat.
Place chicken in skillet & brown both sides for about 2 minutes each.
To make mustard-yogurt spread, combine Greek yogurt, mustard, garlic, onion powder, salt, & pepper into a small bowl. Set aside.
Combine panko crumbs & thyme together in a separate bowl. Set aside.
Spread mustard mixture all over one side of chicken breast. Sprinkle with panko crumb mix. Turn breasts over & repeat on the other side.
Place skillet into oven & bake for 15 minutes or until cooked through.
For the last 5 minutes place the chicken under a broiler to brown the breadcrumbs on top. Remove chicken from the skillet & set aside.
To make the mustard sauce, place skillet over medium-high heat & add milk, cornstarch, & broth. Whisk together while bringing to a boil until sauce begins to thicken, about 5 minutes.
To serve, place chicken on top of mustard sauce, topping with more drizzled sauce & thyme.
http://patriciaspatticakes.com/2014/04/panko-crusted-mustard-glazed-chicken-html/
© Patricia's PattiCakes