Ok, so I've been really good these last 6 months.
Most days I try to eat healthy & try to keep my alcohol intake at a minimum…
Then Sunday hits & I don't know what comes over me 
but apparently all bets are friggin' OFF when it comes to brunch.
(I said I try, not promise!)
However, these last couple of Sundays have been a little different…
You see, in about 1 month I will have to partake in the shame-inducing act of squeezing myself into a unforgivingly tight wedding gown & parading all of this goodness in front of close friends & family as I repeat "don't trip, don't fall, don't throw up" over & over again in my head.  
So this Sunday, all bets were slightly back ON.
Now, I don't believe in giving up everything to fit in said wedding dress. 
That would just be crazy.
So I took my favorite recipe for skillet potatoes or "hash" as some fancy-schmancies like to call it, & I kicked the veggie & flavor up a notch while limiting the fat & calories by removing the meat from the hash.  Instead, I used chunky, hearty vegetables to replace the typical "corned beef" & made a kick ass flavorful vinaigrette to make this dish more satisfying & savory.
Now before you get all cray- cray on me & say, "Hey, olive oil is FATTY", listen here:
Yeah, I know olive oil is fat. However, it is GOOD FAT. 
& yeah, there is such a thing.
You need a little fat to keep your skin & hair soft, deliver, store & absorb fat-soluble vitamins in your body & it provides a highly-concentrated form of energy.
(Do I really have to say more after the whole "keeps your skin & hair soft"?)
So make the vinaigrette, toss your hash in it & don't worry so much!
It's the weekend!
Trust your belly as well as your face & hair will thank you!
First, prep all your veggies.  I used a sort of ratatouille blend with yellow grape tomatoes, zucchini & red bell peppers. Not only does this look pretty but the rough chop of the vegetables makes this dish feel hearty without the meat.
Ha Ha! Fooled you, brain!
Next, I parboiled some red potatoes (skin on) so that I could reduce the cook time.  Parboiling basically means boiling them just enough to make them slightly tender but not enough to be cooked all the way through.  Remember, you will continue cooking them in the cast iron pan so you don't want them to get mushy by over boiling them!
The next couple of steps are pretty easy.  First, heat a hot cast iron skillet with 1 Tbsp extra virgin olive oil over high heat.  Place the bell pepper & zucchini in the pan with italian seasoning, salt & pepper.  Continue to cook for about 4-5 minutes.
Next, I added the tomatoes & continued cooking for 1 minute.  Usually I would add the potatoes first but I wanted to let the juices out a little so that I could make a little "sauce"…
totally on purpose 🙂
Next, add the potatoes & toss to coat with spices.  Make a single layer on the bottom of the pan, reduce heat to medium-high & continue to cook for about 3-4 minutes.  This will allow the potatoes to form a golden brown crisp crust. Turn/flip the mixture over & cook an additional 3-4 minutes.
While your potatoes are cooking, prepare the vinaigrette.  
All it takes is these 5 simple ingredients to make a delicious addition to your hash.
 You can use fresh basil if you have it then put it in the food processor with the red wine vinegar & olive oil but I had neither…
I used the frozen basil cubes I had & whisked them into the red wine, olive oil, dijon mustard, salt & pepper.  
& what do you know, it was still delicious.
I know the basil looks a little…uh…like something weird…
 Turn off the heat, toss the hash with the vinaigrette, garnish with fresh scallions & serve immediately.
I served this veggie hash with a Strawberry-Peach Bellini because I ate my veggies like a good girl.
Don't judge me.
It's the Sabbath.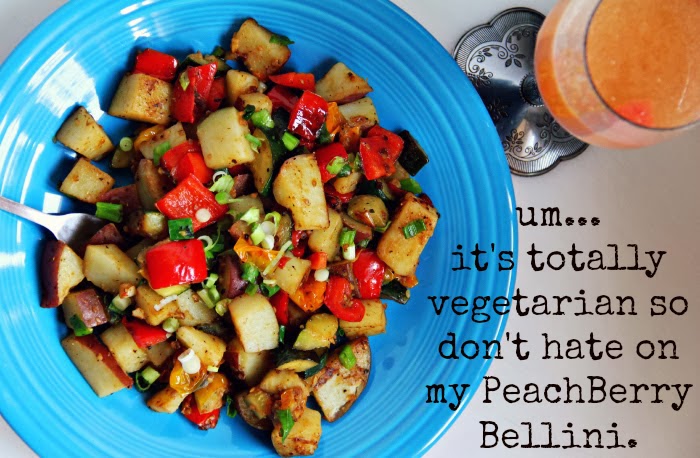 Enjoy!
Sunday Brunch: Vegetarian Hash with Basil Vinaigrette Dressing
Ingredients
For the Hash:

3-4 medium red potatoes, diced into 1" cubed
1 large red bell pepper, diced into 1" pieces
1 large zucchini, diced into 1" cubes
1 cup yellow grape tomatoes (you can also use red cherry tomatoes), sliced in half
1-2 cloves garlic, diced
1 Tbsp extra virgin olive oil
1 Tbsp dried italian seasoning (usually includes oregano, basil, rosemary & parsley)
salt & pepper to taste

For The Basil Vinaigrette:

3 Tbsp red wine vinegar
1/4 cup extra virgin olive oil
1 Tbsp dijon mustard
1 Tbsp chopped basil (or frozen basil where each cube = 1 Tbsp)
salt & pepper to taste
Instructions
In a 2 qt saucepan, add diced potatoes & add enough water to cover & boil until potatoes are just tender enough that a fork pierces them slightly, about 10 minutes.
Drain potatoes from water & set aside.
In a hot cast iron skillet placed over high heat add olive oil. Sauté garlic until just light brown, about 30 seconds.
Add bell pepper & zucchini & sauté for about 4-5 minutes or until softened. Add italian seasoning, salt & pepper.
Add grape tomatoes & continue to cook for 1 minute.
Lower heat to medium-high. Add red potatoes to the pan, tossing to cover with spices. Make an even layer of the mixture on the bottom of the pan so that it can evenly brown & form a crispy crust. Cook for 3-4 minutes on one side, turn/flip with a spatula & do the same on the other side.
While potatoes are cooking, prepare vinaigrette.
In a small bowl, combine basil, salt, pepper, red wine vinegar, dijon mustard & olive oil. Whisk vigorously to combine all ingredients together.
Once potatoes are done, turn off heat, toss with vinaigrette.
Garnish with fresh sliced scallions & serve immediately.
http://patriciaspatticakes.com/2014/03/vegetarian-hash-with-basil-vinaigrette-dressing-html/
© Patricia's PattiCakes