Top of the mornin' to ya.
Have you been wondering why the supermarket has all of a sudden put out corned beef & cabbage in convenient little bundles?
Why the police all of a sudden decide it's a good idea to put a checkpoint on every corner of your hometown?
Why people at your favorite bar have been drinking that unholy concoction of green-dyed beer?
Yes, it's almost St. Patrick's Day.
Bust out your favorite green striped tube socks, ladies.
Now if you're like me & you don't want to dye your insides green with your cocktail, have I got a treat for you.
Homemade Irish Cream is kind of like Bailey's but better.
Last year, I used Bailey's in the frosting for my Guinness Irish Cream Cupcakes.  These cupcakes were a huge HIT with all of my friends because well, I hang out with people who like to eat their booze in cake form.
So as I was baking up another batch of these deliciously deviant little cakes, I got to thinking…
Just what the hell IS Irish Cream & why am I paying Bailey's to provide it?
I mean, I know my stunning detective skills tell me it's probably made out of cream but what else is in this boozy concoction?
I tried reading the back of my Bailey's bottle but quickly realized that alcoholic beverages are not required to list their ingredients so all I got was cream, chocolate, & vanilla. 
After some hardcore googling, 3 cupcakes, & a slight sugarbuzz, I had an answer & a recipe. 
And wouldn't you know it that traditional Irish Cream has eggs in it. 
I know that the eggs give Irish Cream it's rich eggnog-ish quality but I tried it with & without & I like it without…but I'm an egg hater so you really can't trust me when it comes to eggs.
If you have never Irish Cream, let's go over the basics: 
Irish Cream is a cream-based liqueur flavored with coffee or chocolate & is traditionally spiked with Irish whiskey.  The creaminess comes from not only heavy cream but condensed milk & those eggs we talked about..ugh.  A little chocolate syrup, instant espresso grounds & a whole lot of whiskey later & you've got yourself a nice little liqueur.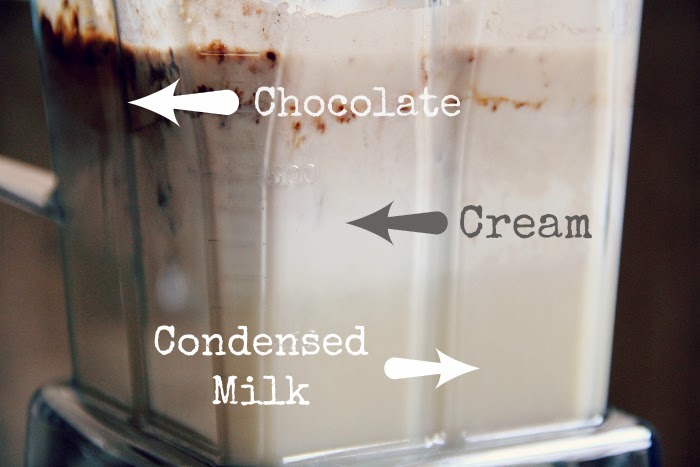 It's commonly used in coffee cocktails (Irish Coffee), over ice alone or mixed with complimentary liqueurs such as Kahlua or vodka (White Russians)…
or in frosting…delicious, alcoholic frosting…mmm.
What I really love about making your own Irish Cream is that it is so easy to make & so customizable!
Literally, you pour all of the ingredients into a blender & blend for about 30 seconds. 
By adjusting the extracts, you can easily turn this into a mint Irish cream or coconut Irish cream.  Adding more chocolate and coffee turns it into more of a mocha cream & replacing some of the chocolate with caramel syrup gives you a rich & sweet flavor.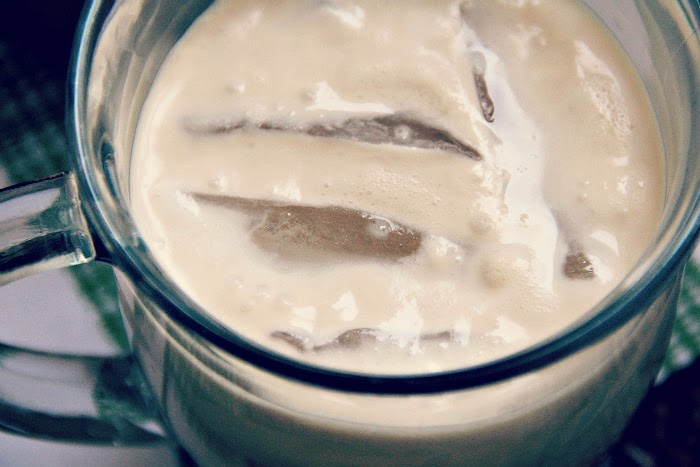 So get creative & let me know how your Irish Cream turns out!
sláinte!
That's cheers in Gaelic. Consider.
Ingredients
1 cup heavy cream
1 (14 oz) can sweetened condensed milk
1 1/2 cups Irish whiskey
4 eggs (take it or leave it)
1 1/4 tsp instant espresso grounds
2 Tbsp chocolate syrup
1 tsp vanilla extract
1/2 tsp almond extract
Instructions
In a blender, combine all of the ingredients on high for 30 seconds.
Store in a tightly sealed container in the refrigerator. Will keep up to 2 months.
Shake well before serving.
http://patriciaspatticakes.com/2014/03/homemade-irish-cream-html/
© Patricia's PattiCakes