How the heck do you spell this anyways?
According to my sources (Google) I found out that the correct spelling is DOUGH-NUT which was later shortened to DO-NUT & didn't really become popular until after Dunkin' Donuts opened their doors.  
With that being said: I like spelling it do-nut.
You know what else I love?
Yeah, I know it's commercial. 
Yeah, I know it makes single people feel like lepers.
Yeah, I know it is a nonsense holiday made up by people who make greeting cards & heart shaped boxes of chocolate.  
With that being said: I love Valentine's Day.
I really shouldn't love February 14th…
There's been a long list of terrible Valentine's Days in my past. 
Each one its own little heart shaped death that ultimately made me 
swear off Valentine's Days, for like, a decade.  
It was a dark phase, what can I say?
And the fact that I am old enough to refer to things in terms of "decades" 
makes my youth die a little death of its own, but that's besides the point.
What was the most terrible V-Day gift I ever received? 
Oh, I don't know. Maybe it was the roses that were bought on the side of the road that still had thorns & bugs on them that later decided to make a home in my car
or maybe it was the sad Subway gift card for $10 & handwritten note given to me by an ex-stalker that found me at work…that, by the way, I'm pretty sure he got someone else write for him judging by the swirly lettering & heart-dotted letter "i's"
or maybe it was the weird little cross-eyed bear from the gas station that clipped on to a single rose…a single dying brown rose…
There's so many options, it's really hard to choose.
You know what would've been great? 
Just a donut made with my loved ones own two little hands showing me that they care enough to get their hands a little dirtier than rifling through the 
CVS bargain bin of sad little stuffed animals that sing, "Wild Thang".
I'm a simple girl with simple needs.
So to spare you from being the giver (or recipient) of a horrible Valentine's Day gift, I present to you what a girl really wants:
A gosh darn Home Baked Red Velvet Donut with Cream Cheese Glaze!
 With my first go round with these donuts, I used my tried & true red velvet cake recipe which usually produces a light, moist & airy chocolately cake.  Um, let's just say it wasn't so good when I was trying to make a donut.  It was full of airy holes & it didn't hold up so good when I tried to apply the glaze.  So I made a few changes & voila! A super easy yet perfectly dense & moist red velvet donut!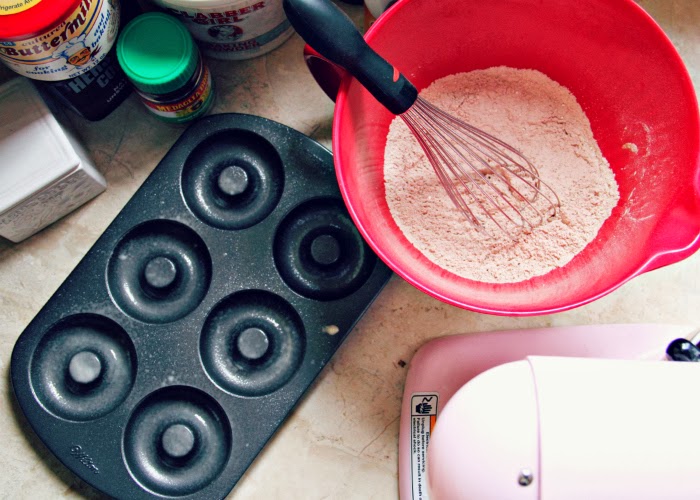 To make these donuts, you will need one of these nifty little donut pans.  True, it doesn't make the
follow traditional
 type of donut (which is fried) but it makes these little cakes perfectly round & cuts out ridiculous amounts of fat & I'm all about cutting the fat so I can enjoy more donuts!
 The recipe for this donut is pretty standard but what I believe makes the difference is the buttermilk, the kind of red dye you use & the coffee boost it gets at the end.
First, the buttermilk:  Now I don't know about you, but I don't need or have a pint of buttermilk laying around on a whim.  I also don't trust the whole milk + vinegar substitute thing either.  So I did a little research & I found my holy grail buttermilk.  It's a powder that is added to the rest of the dry ingredients.  You simply add water in lieu of the buttermilk to your wet ingredients & your end results will be exactly as if you used buttermilk.  Bonus: the powder stays fresh in the refrigerator for up to a year! 
 Now the red dye:  I like to use AmeriColor gel paste food coloring in Super Red. It doesn't have a strong chemical taste like most dyes & the fact that it's a gel won't dilute any batters or frosting.  Plus, I found that I don't have to use a lot of dye to achieve a really strong red color. I really wish I didn't have to use any at all but that's the nature of the red velvet beast.
 See how deep of a red color you get with just 1/2 teaspoon of dye?  I found that it is easier to pour this particular batter into a measuring cup then into the donut mold.  I tried a spoon which made a mess then a scoop which made another horrendous mess but if you've got those skills, go on with your bad self.
 The mold that I used is from Wilton.  I sprayed each mold with Baker's Joy before pouring the batter in.  I kinda went overboard with the spray but it didn't really affect it.  I recommend filling each mold about 2/3 full to avoid overflow & a potential oven fire…not that I did this or anything…
 Once you get those little delicious rounds out of the pan, they will look like a donut made a baby with a cake.  I'm not saying these are Krispy Kreme-status-type donuts but eating one of these baked donuts will be about a third of the calories of a traditional fried donut…which means you can have 3, right??
 So I totally forgot to take a photo while I was making the icing but I put the ingredients & instructions below.  It's a basic cream cheese frosting (the kind you use on cake) only I thinned it out with a little whole milk so I could dip the donuts into the glaze versus spreading it on like a cake frosting!
Once you dip them in the frosting, let them dry slightly before putting your sprinkles on it. This will help prevent any color seeping out of the sprinkles & bleeding into the frosting…but let's be honest:
 Even an ugly donut is a good one.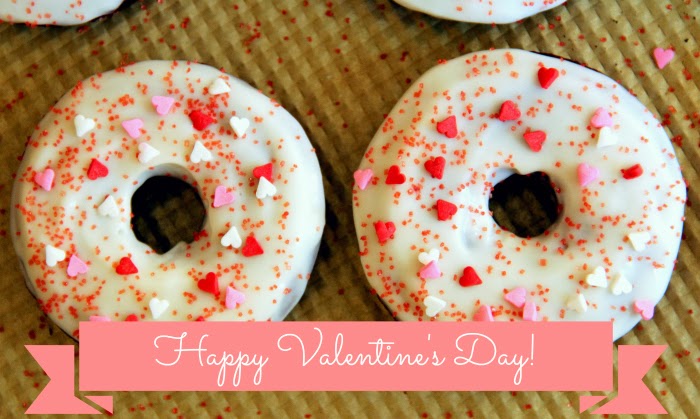 Home Baked Red Velvet Donuts with Cream Cheese Glaze
can i buy aciclovir tablets over the counter in the uk
Ingredients
Red Velvet:

1 cup all purpose flour
1/2 tsp baking powder
1/2 tsp baking soda
2 Tbsp unsweetened cocoa powder
1/2 tsp salt
1/3 cup + 2Tbsp granulated sugar
1 egg
3 Tbsp canola oil
1 tsp vanilla extract
1/2 cup buttermilk (or if using buttermilk powder, 2Tbsp powder + 1/2 cup water)
1/2 tsp red food coloring (recommended: AmeriColor Super Red)
1/3 cup hot fresh brewed coffee
1/2 tsp white distilled vinegar

Cream Cheese Glaze:

3 oz cream cheese, room temperature
2 oz unsalted butter, room temperature
1/2 cup powdered sugar, sifted
2 Tbsp milk

Decorations:

Sprinkles, nonpareils, jimmies, cake crumbs, really anything you want to put on a donut to make it pretty 🙂
Instructions
Preheat oven to 350 F. Spray donut mold with Baker's Joy or other nonstick spray.
In a large mixer bowl sift together the flour, cocoa, baking soda, baking powder, salt & sugar. (If you are using buttermilk powder, add this in with the dry ingredients).
In another small bowl combine the egg, vinegar, oil, vanilla, buttermilk (or water if using buttermilk powder) & red food coloring. Lightly whisk to combine.
Add wet ingredients to dry ingredients & mix with a paddle attachment until just combined. Scrape down the sides of the bowl.
Slowly add the coffee with the mixer on low & mix until all ingredients are fully combined.
Transfer batter to measuring cup with a pouring spout.
Fill donut molds 2/3 full.
Bake for about 8-10 minutes or until a toothpick inserted into the center of the donut comes out clean.
Turn out onto a cooling rack while you prepare the glaze.
To prepare the glaze, place cream cheese & butter into a medium sized bowl. Using either a stand or hand mixer on medium, beat cream cheese/butter until smooth.
Slowly add powdered sugar& continue beating until no lumps are present.
Adding 1 Tbsp at a time, add milk to glaze until it reached the consistency of honey.
Dip cooled donuts halfway into glaze, letting excess drip off before turning right side up. Put back on rack, let sit for about a minute then top with sprinkles or other decorations.
Let the love commence!
http://patriciaspatticakes.com/2014/02/home-baked-red-velvet-donuts-with-cream-cheese-glaze-html/
© Patricia's PattiCakes