Did you know July 28th is Peruvian Independence Day??
And we celebrate with what else??
Food that makes my tummy say, "Now THAT'S what I'm talkin' about!!".
And you know what I'm talkin about today??
Lomo Saltado and Camotes Fritos (fried yams)…& bread rolls. 
Lomo Saltado is a Peruvian dish made up of strips of sirloin marinated in vinegar, soy sauce and spices, then stir fried with onions, cilantro and tomatoes.  It is usually served with french fries over white rice when eaten as a main dish for dinner.  
An excerpt from a fabulous cookbook called, "
The Art of Peruvian Cuisine
", best explains the background of this Peruvian/
Asian
-inspired dish:
"The arrival of Chinese indentured servants to work the coastal plantations and the railroads in the mid 19th century had a profound effect on Peruvian eating habits. Lomo Saltado is probably the modern day dish that best symbolizes Peruvians' enthusiasm for the stir fry technique. With its traditional ají flavoring, and a soy sauce twist, this meat and potato dish is a family favorite all over Peru."
My family has turned this savory dish into a breakfast meal by removing the french fries and rice and replacing it with fried yams cut into rounds (camotes fritos) and french rolls (bolillos). 
Good God, this is why I'll never be a size 2.  
I have a table surrounded by family & laughter & an awesome pair of "stretchy pants".
 Traditional Lomo Saltado recipes call for aji amarillo (peruvian yellow peppers).  Those are hard to come by 'round these parts so we use bell pepper. 
Plus, we don't burn the taste buds off my nephews, so that's a bonus.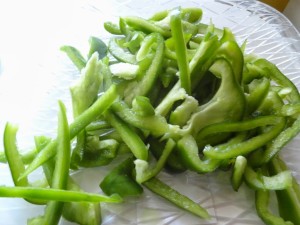 Camotes Fritos (fried yams) are a staple in Peru.  They cut them into rounds, fry them up and put them on everything.  Even the hamburgers at Burger King in Lima get the camote treatment.  
I thought I was a weirdo until I went to Peru and saw this. 
Instantly, I knew I was right where I belong 🙂
Fried yams are sweet and crunchy and taste abso-freakin-lutely wonderful in a butter sandwich. I know, I know, but trust me: It's legit.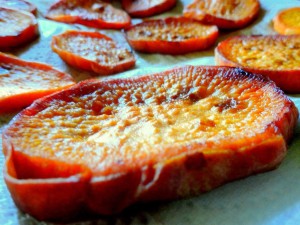 This is the final product.  Juicy, meaty, full of goodness…yeah, it's Peruvian breakfast time!
Mmmm…put me in bread, I'm done.
My family is a little nuts. We talk shiz, we laugh, and most of all we pose for dumb pictures like this when we get together and cook.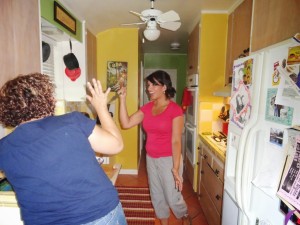 1 lb. beef steak. sliced into 1/2 inch strips (tenderloin, flank, london broil…it's up to you)
1-2 cloves garlic, minced
2 onions, sliced (red is my favorite but any onion will work)
3-4 medium plum tomatoes, sliced into 1/4 inch thick wedges
1 bell pepper, sliced
2 Tbsp. cilantro, stems removed, leaves finely minced (depending on you love of cilantro, add more or less)
2 Tbsp red wine vinegar
3 Tbsp soy sauce
1-2 hot yellow peppers (aji amarillo), sliced into strips (adjust according to your desired heat level)
2 Tbsp vegetable oil
1/2 tsp ground cumin
salt and pepper to taste
** 1 1/2 lbs yellow or russet potatoes, peeled and cut into strips
** vegetable oil for frying potatoes
**If you are adding french fries to the Lomo Saltado, first peel and cut potatoes into 1/2 inch strips, place in ice water, and set aside until ready to fry.
1.  Cut beef into 1/2 inch strips. Heat vegetable oil in skillet and saute garlic on medium heat for 1 minute.
2.  Raise heat to medium high, add beef, salt, pepper, and cumin to skillet and saute until browned.
3.  Remove beef and juices from skillet, making sure to reserve juices. Set aside.
4.  Add onions, yellow peppers, bell peppers, & tomatoes to skillet.  Saute until onions & peppers are soft, about 2 minutes, adding more oil as needed.
5.  Add the vinegar, soy sauce and red peppers and cook 2-3 minutes more. Remove from heat.
6.  Add the beef to the pan with the onions and peppers. Add the tomatoes and heat for 2-3 minutes more.
7.  Serve with rice.
8.  EAT UP!!!
**If making french fries for this dish do the following:
1.  Heat enough vegetable oil in a pan to cover a layer of fries over medium high heat.
2.  Remove french fries from ice water, dry off with a paper towel and add to the oil.  If using frozen fries just follow the directions on the packet for how to fry them.
3.  Once fries are golden brown and cooked through, remove from oil and and drain on paper towels. Season with salt and pepper to taste.
4.  Add french fries to finished lomo or you can place them on top of the meat once plated.  Serve with white rice.
CAMOTE FRITOS (FRIED YAMS)
1-2 large yams (will make enough for 3-4 people depending on size)
vegetable oil
1.  Wash and clean yams.  Peel yams and dry off.
2.  Cut yams into 1/4 inch thick rounds.
3.  Heat oil in skillet on medium heat for 1 minute.
4.  Add yams to oil and fry until golden brown.
***These yams can be added to any dish. They go great in sandwiches w/ lomo saltado, on top of burgers, great with white rice or inside of bread! Get creative!!!